History has been good for this business service. What started in the early 1900s has provided the foundation for ongoing business success. We are talking about the call center even though the term "call center" wasn't used until later in the century.
Initially, these types of services were used to sell things to consumers in the same way as telemarketers might call your home or a traveling salesperson would knock on your door trying to sell you a vacuum cleaner.
Innovative Development
Over time, the call center has taken many forms and is a valuable partner in the innovative development of technologies we use today. The growth of the industry revolutionized the call center from one decade to the next. 
Who could have imagined how things would have changed to today's highly advanced contact centers and business process outsourcing (BPO) that provides critical customer service for businesses, medical providers, nonprofits, property management solutions, colleges, and more? Contact centers drive business success now more than ever.
Connecting Calls Manually
In the early years, receptionists or operators were seated at large switchboards. These individuals would connect a call manually to a person or extension by plugging and unplugging a cable to start and end a call. But as time went on and technologies became more advanced, automated methods would replace the days of manually connecting a call.
In today's customer service support system, call center usage isn't a surprise to callers. If a customer needs to inquire about a lost package, troubleshoot issues with a computer, or report an error on a credit card bill, the support number they call will direct them to a call center. 
But how call centers exist today takes place within a much larger ecosystem of customer support – one that involves far more channels and processes than simply making or answering calls.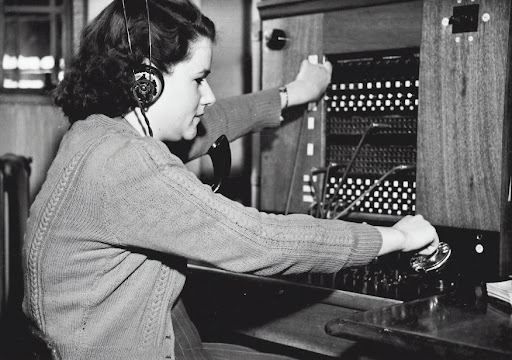 Growth of the Industry
While contact centers are commonplace today, this wasn't always the case. One of the earliest instances of companies changing the customer service game was Sears. The company began the first Work at Home (WAH) program enabling agents to call people from phone books and sign them up for the Sears credit card.
Continued Growth
Next came the advent of key telephone systems (one line, one phone) growing into large PBX systems (many lines to many phones) to support increased call volume. And finally, technology tied it all together with automatic phone dialing (outbound) and automatic call distribution or ACD (inbound).
The Internet Changes Everything
Call center technology advancements didn't only come from PBXs and ACDs. The internet introduced new channels into the customer support experience. This included email, social media, live chat, and chatbots.
Call Centers Become Contact Centers
"Call center" was no longer a broad enough definition for all the operational services provided. Call centers became contact centers, offering omnichannel support for all. More and more people were learning firsthand how contact centers drive business success.
BPO Services
As large, process-driven companies jumped on board, they began outsourcing back-office operations from their contact centers, and Business Process Outsourcing (BPO) increased efficiencies for companies across the U.S. and Canada. Now, any operation offering front-office (customer-facing) and back-office (administrative, accounting, and paper-shuffling) is a BPO.
How Contact Centers Drive Business Success
It's an ever-changing industry that continually expands to meet the needs of consumers, small businesses, nonprofits, and the larger corporate world.
What Does the Future Hold?
There are plenty of theories and ideas that address the continued growth of this industry. In its Strategic Roadmap for Customer Service and Support, Gartner recently found that moving to proactive engagement will be the number one priority of customer service leaders as they rethink the business model around customer assistant modes.
By 2025, proactive customer engagement interactions will outnumber reactive customer engagement interactions.
AnswerNet Meets Your Needs Now
As a leading provider of professional call center solutions, AnswerNet specializes in helping companies grow and optimize their business. We have roots back to the 1920s and are constantly evolving to meet the demands of our clients and the industry.
AnswerNet provides a range of services designed for your business including nonprofit support, inbound call services, customized outbound services, BPO services, telephone answering services, and much more. Click the button below to request a free, no-obligation price quote.