Go above and beyond for your customers. We're committed to delivering a level of support that sets your business apart. With AnswerNet by your side, you can exceed customer expectations and create lasting relationships that drive success.
We understand the stress that comes with managing customer inquiries. That's why at AnswerNet, we offer a personalized Help Desk solution that takes the load off your shoulders and ensures each query receives the attention it deserves.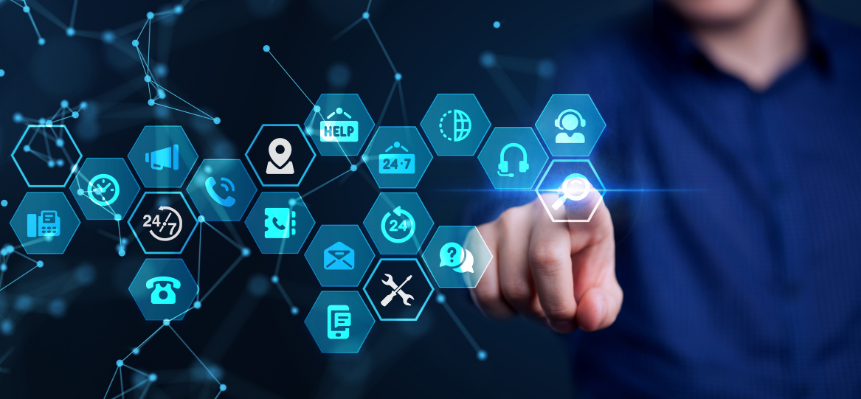 Two Levels, Total Control
AnswerNet stands apart from other help desk companies. We offer a comprehensive approach through our L1 and L2 service levels. Whether you're dealing with simple inquiries or complex technical support services, we've got you covered.
Tier 1 (L1) - Self-Service Solutions for Help Desk Support:
For those straightforward, everyday issues, our L1 support provides self-service solutions. Your customers can swiftly troubleshoot basic technical support problems through text or IVR, freeing your team from handling routine matters.
Tier 2 (L2) - Expert Help Desk Assistance and Dedicated Technicians:
When it comes to more intricate problems, our L2 support steps in. Our 24/7 tech support ensures your customers always have access to knowledgeable professionals. Our dedicated agents are armed with a customized knowledge base, allowing them to efficiently address common technical support concerns. And for those challenges that require a deeper level of expertise, we collaborate seamlessly with your in-house technical support team.
Stress-Tested Features to Empower Your Team
Craft personalized messages that match your company's style, making conversations feel natural and friendly.
Customized Escalation Procedures
Handle problems your way, ensuring issues are managed according to your preferences.
Help customers find nearby dealers easily, providing them with convenient options.
Arrange on-site help when it's needed, making sure challenges get resolved effectively.
Break language barriers, so you can assist a diverse range of customers without any communication hiccups.
Call Patching and Routing
Get customers connected with the right experts quickly, minimizing wait times and hassle.
Advanced Ticketing System
Keep track of issues seamlessly with remote technical support, guaranteeing that nothing falls through the cracks.
Cross-Selling and Up-Selling
Break language barriers, so you can assist a diverse range of customers without any communication hiccups.
Integration with Online Help Desk Software
Easily connect with your existing online help desk software, ensuring smooth communication and efficient processes.
At AnswerNet, we stand out from other companies that offer help desk support. We're not just a service; we're your dedicated partner. Our team is like an extension of your own, always ready to go above and beyond. With AnswerNet, you're not just getting assistance – you're gaining a committed ally who genuinely cares about your success.
Ready to get your customers the support they need? Help Desk is here!