Courage, passion, and hard work. What do these words have in common? They are some of the characteristics of small business owners celebrated during National Small Business Month in May. 
Since 1963, the U.S. has recognized small businesses and their impact on the American culture and economy. The designated month honors the country's 33.2 million small businesses and the people who run them.
The Backbone of America's Economy
Entrepreneurs, small business owners, and their employees are critical to the U.S. economy. Their work and contributions to communities nationwide deserve a month of recognition and celebration.
For 60 years, America has taken great pride in celebrating National Small Business Month. The month also includes National Small Business Week (April 30 – May 6), and National Small Business Day on May 10. 
This annual tradition, led by the U.S. Small Business Administration (SBA), is co-hosted by SCORE, which mentors America's small businesses.
"National Small Business Week celebrates the resilience, innovation, and economic power of America's small businesses and innovative startups," says SBA Administrator Isabella Casillas Guzman. "I'm thrilled to showcase our highly impactful entrepreneurs who build prosperity in their communities while strengthening our nation's global competitiveness."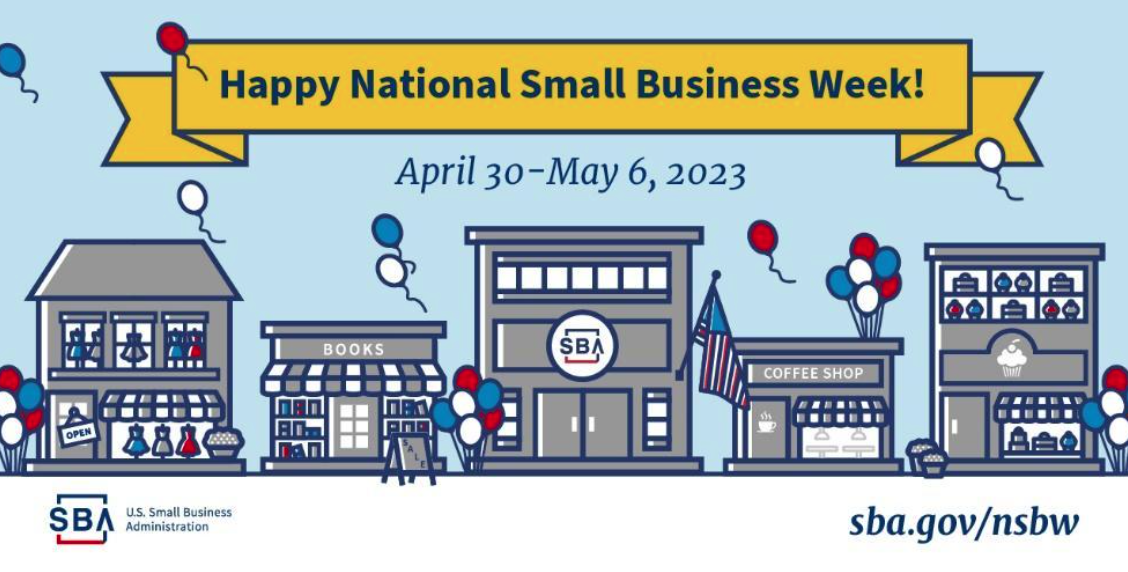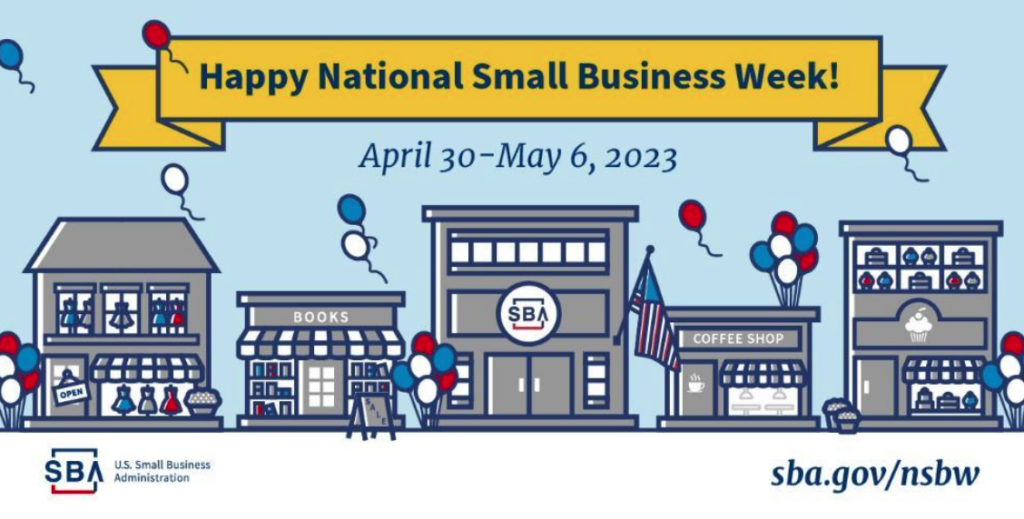 Starting a Business at the Right Time
Larry Whitney grew up near San Francisco and was passionate about this work. He was 20, and a growth plan was not even part of the equation.
"We just liked what we did, worked hard, and the timing worked for us," says Larry. He was excited about the opportunities that first included providing audio work for city councils and churches. 
His company, Western Audio-Video, continued to grow and expand. He provided broadband data communications and began working with four major universities in the western U.S., including Stanford. He became a subcontractor with the U.S. Department of Defense.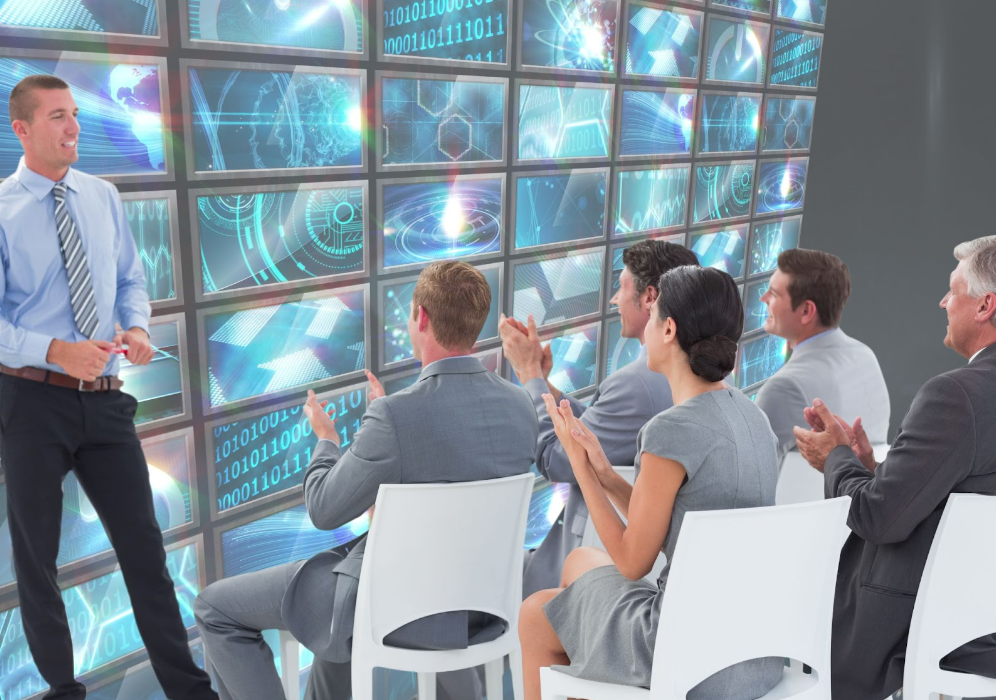 Endless Opportunities
"I found a niche to serve," says Larry. "It was the perfect location for the company. There were endless opportunities in the San Francisco Bay Area."
As the communications world changed, Whitney's company worked with fiber optics and cable television companies. Throughout the years, Western Audio-Video provided cutting-edge services to Bay Area homeowners and businesses.
"We had a track record rivaled by few in the industry and consistently provided professional home, commercial, office A.V. and integrated installations, both large and small," says Larry.
High-End Projects
Western Audio-Video spent nearly 12 years focusing on high-end audio-video for large corporations and multi-million-dollar companies. Larry said these companies did not want cookie-cutter systems, and the projects required extensive engineering, superior client relationships, and customer response. 
After 45 years of leading his company, Larry knew it was time for a change. He had the right people to transition the company to younger partners in 2021.
Reflections and Advice
Would he want to do this all over again? "Yes, I would do it again," Larry says. "It provided a good life for me and my family. There were challenges, but we rolled with all the new technology and never let it become antiquated."
He encourages new business owners to take the time to build the right team of employees. "It's not easy to do, but you must find the right people for your business."
2023 Small Business Facts
SBA Administrator Guzman reports a record high of 10.5 million small business applications filed in the last two years.
"This is the most in any two years in our nation's history," she says. "This is better news for our economy, with steady and stable growth and unprecedented investments in infrastructure, manufacturing, and R&D, bringing abundant opportunities for America's entrepreneurs."
The Forbes Advisor outlined small business statistics in 2023 that include data about employment, job creation, industry growth, and challenges.
Highlights include: 
Small businesses account for 99.9% of all companies. 
There are 33.2 million small businesses.
Small businesses have created 12.9 million jobs in the last 25 years.
Home health and personal care industries have the highest projected job growth in the next decade.
Working in Corporate America 
Mark Peters of Billings, Montana, spent years in corporate America. He had a natural talent for sales and marketing and would fly to meet with clients in Minneapolis, Chicago, Denver, and the southwest U.S. 
Life Changes Priorities 
With young children at home, Mark decided it was time to trade corporate life for running his own business. He earned the designations necessary to open an insurance agency.   
"After so many years of traveling for work, this was the right move for me and my family," says Mark. "I loved the freedom of owning my business and helping people achieve their hopes and dreams."
After 11 years, Mark sold his insurance business and began a career in real estate. He did well and added more staff to help the company. He also began teaching home buyer workshops and continues to do so today.
"I would tell anyone who wants to start a business to do it," Mark says. "You'll have many challenges, but your freedom as a business owner is worth it." 
COVID-19 Changed Everything
Sarah Schuette worked in the publishing industry in Minnesota for 20 years. The pandemic changed employment for many people, and Sarah knew it was time to look for another position. Little did she know that a favorite business in her hometown of Henderson would become part of her next adventure. 
Perfect Timing
With a twinkle in her eyes, Sarah fondly remembers growing up and hanging out at the pharmacy with a soda fountain. Established in 1890, the pharmacy with a soda shoppe became a community gathering place for all ages. The convenient Main Street location is an hour from downtown Minneapolis. 
The building shared a rich history in the community. Greyhound buses would stop at the shoppe, and kids would head there to call their parents after a game. The soda fountain remained a mainstay in Henderson even after the pharmacy closed. 
Unemployed and looking for her next job, Sarah went to one of her favorite places, the soda shoppe then known as Toody's Sweet Treats. Sarah jokingly asked the owner if she needed help. Toody's answer was, "Absolutely!" Shortly after that, Toody told Sarah she was ready to retire. 
A Tradition Continues
Transitioning the business' ownership was the perfect timing. The two women had a year to work together, and Toody retired in December 2021.
"It was a miracle that everything fell into place," says Sarah. "I always drove by Toody's on my way to Mankato and thought it could be Schuette's someday. Dreams do come true!"
Sarah bubbles with enthusiasm when she talks about Schuette's Ice Cream Shoppe. "My shoppe is a happy place," she says. "It's a light and fun place. I want customers to trade sadness for a smile and happiness when they are here."
Every day is different. "We have people celebrate all stages of life here," says Sarah. "A 100-year-old woman wanted to celebrate her birthday with a chocolate malt, and we made her day special with the treat. Families bring new babies in to visit, and memorial cards are read after a loved one has died."
Local cribbage teams play and fill the shoppe with laughter during the weekly games. Henderson's famous Classic Car Roll-In takes place on the main drag every Tuesday night from May to September. The street is filled with 275+ vehicles and 150+ motorcycles. In addition to the locals, people stop from across the U.S. on their vacations and business trips. 
All the Favorites
Schuette's Ice Cream Shoppe serves the classic Cherry Coke, hand-dipped ice cream, shakes, malts, floats, banana splits, and lunch specials. A second generation ice cream company from the Twin Cities still delivers the ice cream to the shoppe like it has since 1960. Sarah is thrilled to have her mother volunteering with her at the cozy shoppe. 
"I love owning this business," Sarah says. "It gives me the freedom to do what I want, and I'm my boss. The camaraderie of the business community in Henderson (pop. 996) is amazing. I want this to be a happy place, so we don't allow any talk about politics."
Her Business Advice 
Sarah encourages new business owners to have funds available for unexpected emergencies. She also recommends having a tax and payroll person involved with your business. 
"Life is too short, and you need to do the things that make you happy," Sarah says. She continues to learn as she settles into her new business. "We are working on our efficiencies, and the people of Henderson are willing to help. We are all in this together. When one of us succeeds, we all do."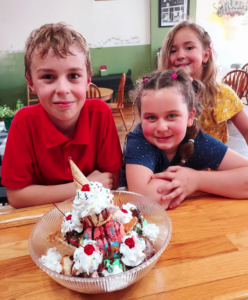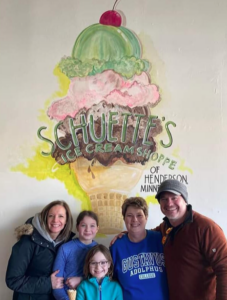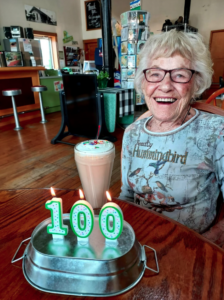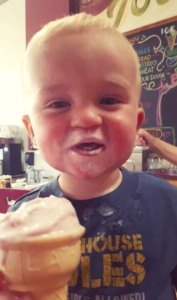 3 Ways to Celebrate Small Business Month 
The SBA invites everyone to participate in National Small Business Month in local communities.
1. Shop
One of the best ways to celebrate Small Business Month is to spread awareness and appreciation for small businesses. Take time to stop at their businesses and show your appreciation. 
2. Partner
If you already own a small business, consider partnering with others. Host events together that will promote both of your companies. Promote a VIP event with unique invitations, snacks, and one-of-a-kind sales. 
3. Share Your Story
Don't keep your story a secret if you started your own business. Use as many resources as possible, like posting on your website and other social media channels. Contact your local newspaper or television stations and tell them you have a timely story to share during Small Business Month. Share your success with other potential business owners and encourage them to pursue their small business dreams.
Did You Know?
AnswerNet Founder and CEO Gary Pudles started his early career as a collections and bankruptcy lawyer. He completed acquisitions in the music industry and was part of the fast-growing wireless industry at a company that would eventually become Sprint.
The Beginning of an Entrepreneur
When he lost his job in January of 1998, Gary had a wife, two kids, and a mortgage. He knew he wanted to work for himself and didn't want to start from scratch building a business.
He loved the telecom industry, people, and B2B services. Gary was offered a deal to partner with another business leader to make his first acquisition. He used his life savings and mortgaged his home to make his first acquisition.
"I am one of the luckiest people," says Gary. "I was in the right place at the right time." In the past 25 years, Gary has grown AnswerNet together with its affiliates to include 31 contact centers within the continental United States and Canada.
AnswerNet provides a vast range of contact center services to optimize telephone answering services, appointment setting and confirmation, customer support, sales, lead qualification, market research, and a host of other contact management solutions provided to thousands of of satisfied clients who process millions of contacts each year.
AnswerNet Can Help Your Business
Whether you run a small business or a large corporation, AnswerNet has the services and solutions to help your organization run more efficiently and enhance your bottom line. Don't wait! Contact us now to learn more about how AnswerNet can assist your organization.